Department of Electronics & Telecommunications Engineering
Dr. Milind Shah
---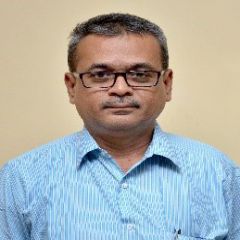 Message from Head of Department
"Develop a passion for learning. If you do, you will never cease to grow" by Anthony J. D'Angelo.
Dear Students and Parents,
Greetings & welcome to the Electronics & Telecommunication Engineering (EXTC) Department of Fr. C. Rodrigues Institute of Technology (FCRIT), Vashi, Navi Mumbai. EXTC department offers Bachelor of Engineering (undergraduate degree) and PhD degree programs.
In India, Component and Electronic Manufacturing Services (EMS) markets are expected to witness high growth rates by the year 2020. Favourable government policies, the Make-in-India initiative, and rising costs in China are the key factors for rise in local outsourced manufacturing, especially in the consumer electronics segment. India possesses superior electronic design capabilities and the availability of a talented workforce at lower wages strengthens its position as a futuristic domestic-cum-export-oriented manufacturing destination for the globe (Source: Frost perspective).
Also, India is the world's second-largest telecommunications market, with over 1.2 billion subscribers as of September 2017. The wireless segment (98.02 per cent of total telephone subscriptions) dominates the market. India is also the second-largest country in terms of internet subscribers. The country is now the world's second-largest smartphone market and will have almost one billion unique mobile subscribers by 2020. Revenues from the telecom equipment sector are expected to grow to US$ 26.38 billion by 2020. India's telecommunications market is expected to experience further growth, fuelled by increased non-voice revenues and higher penetration in the rural markets. Strong policy support from the government has been crucial to the telecom sector's development (Source: India Brand Equity Foundation).
From the above two paragraphs, it is confirmed that electronics & telecommunication engineering is one of the largest & fastest-growing fields of engineering. Having qualified & trained professionals in this field is the need of the hour. Our department mission is to provide quality education to our students and to provide a holistic environment for their overall personal development. We provide an educational experience that allows our graduates to be productive and successful individuals, be it in the workplace, in higher studies, or in any other personal or professional endeavour they pursue.
In EXTC Department, all our activities are student-centred and our well qualified, knowledgeable, skilled, and dedicated faculty members follow a quality teaching-learning process with a constant focus on ensuring the development of all the Graduate Attributes among the students as recommended by the National Board of Accreditation (NBA), New Delhi. Our laboratories, classrooms, etc. and are very well equipped and spacious.
Research culture is taking shape in the EXTC Department through enhanced R & D activities, creation of centres for excellence, stronger interface with industry, alumni, MoU's with the reputed institutes, etc. I am happy to share with you that the Royal Academy of Engineering, UK, had approved an award worth £50000.0 on 17-03-2016 under the "Higher Education Partnership – India, Newton-Bhabha Fund" scheme for the collaborative research work for the next two years among FCRIT-EXTC Department, RIL, India, Leeds University, UK, and Parkinson-Spencer Refractories Ltd. UK. Also, our department UG program was accredited twice in the past by the NBA, New Delhi.
I hope EXTC department will help you (or your ward) reach your educational and career aspirations. Wish you all the best!
Dr. Milind Shah
HOD, EXTC Department, Vashi, Navi Mumbai