Department of Information Technology
Dr. Hariram Chavan
---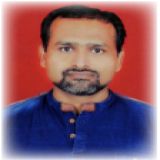 Qualification : Ph.D
Designation : Head of Department
Email id : hari.chavan@fcrit.ac.in
Message from the HOD
In today's information era people need information anywhere and anytime. The creative thinking and thrust for information laid down the foundation of Information Technology Department. Establishment of IT was dawn of innovative applications and touches nearly every field in every aspect of our lives. Its sheer presence offer innumerable job openings and become the cornerstone among the engineering fraternity.
FCRIT aims at holistic development of every student. IT department has a team of dedicated teachers to make the department a center of excellence for quality education and development in the field of Information Technology. In order to achieve this the department is dedicated to reinforce effective teaching learning process well supported and stuffed with curricular along with co-curricular activities.
Time to time department is organizing student development program and hands-on workshop to overcome curriculum-industry gap. The Department is wide open to innovative ideas, methodologies to establish itself as the most hunted excellent learning center in this part of the state. The department concentrates on the overall development of students. Apart from aiming at academic growth it also aims at improving the moral values of students. Our department has set the foundation for events that have inspired students to move out of the classrooms to enhance technical skills and develop personality through various activities. Students are taught leadership qualities and are trained for their bright future.
We are confident that our engineers will emerge as assets not only to this institution and to the organization they belong, but also to the country at large. I congratulate the team of faculty members and the students for their brilliant and original efforts.