Department of Information Technology
Dr. Vaishali Vivekkumar Bodade
---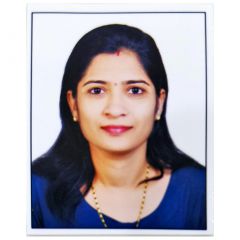 Qualification : Ph. D (I.T)
Designation : Head of Department & Associate Professor
Email id : vaishali.bodade@fcrit.ac.in
Message from Head of Department
The Department of Information Technology is committed to impart state-of-the education and develop future technocrats in the stream of information technology. As in-charge Head of the Department, I am tremendous pride in my role in providing high-quality education and offer a multitude of avenues for students to partake in continuous learning and also help them to inspire to acquire industry-relevant skills.
We believe in tailored grooming of each student's needs by organizing technical workshops and competitive events such as Hackathons, Seminars from eminent voices of the industry, which helps them to access every sub-domain in the field of Information Technology. To bridge the gap between industry and academia, the CSI students section are actively organizing event listed above/below. Students not only participate in these events but lead them, thus helping them to improve on important attributes such as collaboration, communication, and teamwork. Our annual events like AITSS and Infobits empowers our students to collaborate with students from other colleges, thus inculcating a sense of community.
Our students have won several accolades at University, National and International levels.
Our Department's placement records are unvaryingly high and we are proud that the number of students who are getting placed is increasing year after year. We have a strong alumni network who work with renowned organizations such as Shell, Cognizant, TCS, Infosys, Accenture, Capgemini, etc
I, attribute the phenomenal growth of the Department to the winning combination of dedicated and experienced faculty, brilliant students, and supporting staff.