Department of Information Technology
Dr. Shubhangi Liladhar Vaikole
---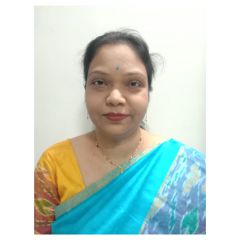 Message from Head of Department
Being a part of Fr. C. Rodrigues Institute of Technology and leading the department of Information Technology, I take this opportunity to broach the department. The constant drive of the institute to provide innovative and quality education, has motivated us to develop and provide futuristic education to the students.
The department strives to provide students with core competence in the field of IT which helps them to comprehend technical concepts to develop novel projects and provide solutions to the real-life problems. Our faculty work with excellent team spirit in different technical team which leads to key research publications in these areas. We believe in tailored grooming of each student's needs by organizing technical workshops and competitive events such as Hackathons, Seminars from eminent voices of the industry, which helps them to access every sub-domain in the field of Information Technology. To bridge the gap between industry and academia, the CSI students section are actively organizing event listed above/below. Students not only participate in these events but lead them, thus helping them to improve on important attributes such as collaboration, communication, and teamwork. Our annual events like AITSS and Infobits empowers our students to collaborate with students from other colleges, thus inculcating a sense of community.
Our students have won several accolades at University, National and International levels. Our Department's placement records are unvaryingly high and we are proud that the number of students who are getting placed is increasing year after year. We have a strong alumni network who work with renowned organizations such as Shell, Cognizant, TCS, Infosys, Accenture, Capgemini, etc
The ace infrastructure, well qualified faculty, staff and T&P ensures bright future. I am confident that our students will excel in all stream of life and emerge as an asset to the organization they belong to, the institute, parents and also to the country, at large.
I congratulate all the students and the team of IT for their brilliant and indigenous efforts. On this note, I wish all the students a great academic career.